Biking on the North Shore
From mellow paved paths winding alongside the lake to steep and technical descents through the trees, Duluth and the North Shore as a whole are home to a wide variety of bike trails that can cater to any interest and ability level.
Regarding the different biking disciplines, mountain biking is the crown jewel for Duluth. With over 45 miles of mountain bike specific trails that intersect with many miles more, you are able to ride for days without getting bored all while taking in the stunning views of Lake Superior and Duluth from unique vantage points. The trails range from short and easy if you are just getting started to long and very difficult so that even a seasoned veteran can still find a challenge.
Some of the most popular areas to mountain bike throughout Duluth are Lester Park, Mission Creek, Hartley Park, the Duluth Traverse and Spirit Mountain just to name a few. Spirit Mountain is very unique for the midwest because it is the only area that is serviced by a chairlift, meaning you do not have to bike up the hill, only down!
If you are interested in looking at all the trails Duluth has to offer, more information can be found HERE!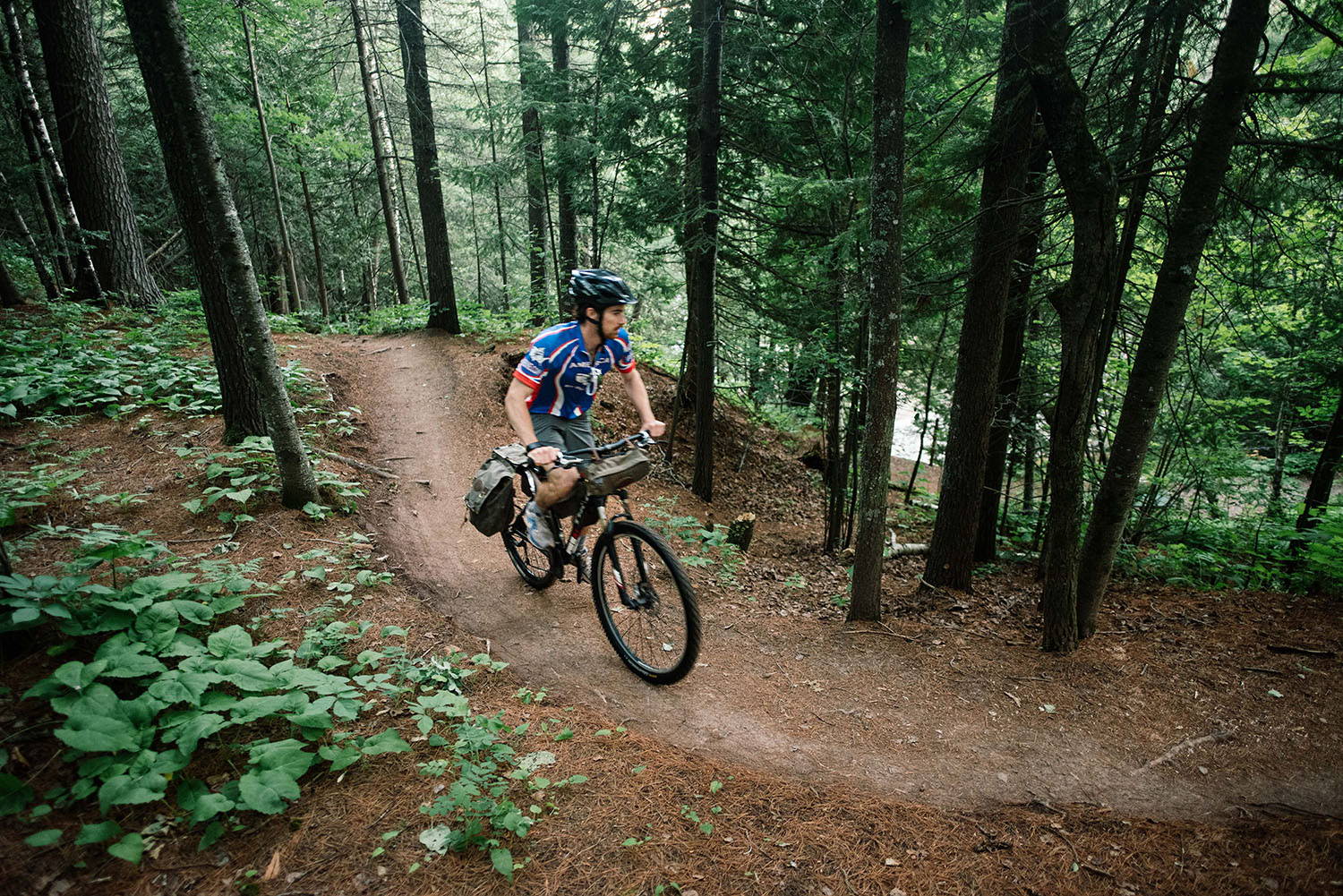 Biking through the woods. Image Credits: Henry Elholm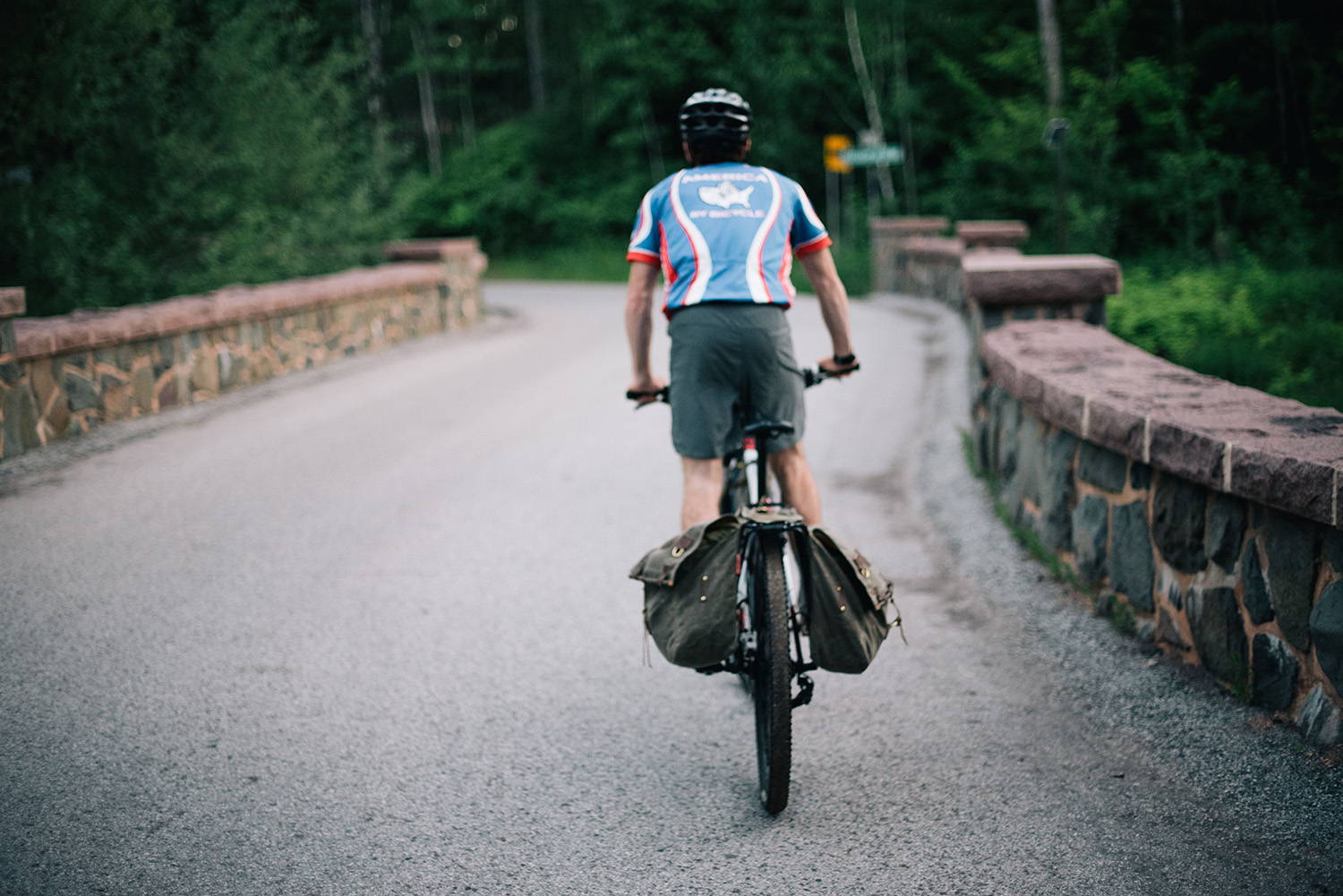 Riding across bridge. Image Credits: Henry Elholm
If mountain biking is not your thing there are still many opportunities for other forms of biking as well, such as gravel biking! Gravel biking can be considered the middle ground between mountain biking and road biking. It takes place on unpaved paths that are too uneven for road bikes but they are much flatter and easier than an entry level mountain bike trail. But don't worry these trails still offer spectacular views with their own sense of adventure!
One of the more popular trails for gravel biking is the DWP Trail which used to be an old railroad track that follows along the river towards Lake Superior on the southern end of Duluth.
Close-up of Sawbill handlebar bag. Image Credits: Woodscreek Productions
Last but not least, there are a multitude of paved paths and trails throughout Duluth and the North Shore that range from short afternoon rides to multi-day bikepacking adventures.
In Duluth there are many popular scenic trails for those looking for a nice relaxing ride with awesome views. One of the most frequented trails is the 7.25 mile Lakewalk that stretches from Bayfront Park in downtown all the way up to Lester Park.
If you are looking for a longer adventure, check out the Willard Munger State Trail. It is 70 miles long and runs from Hinkley, MN all the way to Duluth. Along the way you will see a wide variety of rustic towns and rural landscapes on the south end and then cliffs, waterfalls and forests as you get closer to Duluth.
These are just a few of the many different options and opportunities that exist for biking in and around Duluth. Whether you are planning a multiple day excursion, a casual pedal in the evening or looking for the adrenaline rush of going downhill, Frost River's collection of bike packs and accessories has you covered. From panniers to handlebar bags for those long adventures to hip packs or daypacks for an afternoon on the trails, keep Frost River in mind the next time you are gearing up for your next ride.