Frost River Explores Zion National Park

Come with on the adventure as we gear up for a 24hr roadtrip from Duluth, Minnesota to Southern Utah, leading us to the captivating Zion National Park. Home to dramatic canyons and soaring red cliffs, this park has so much to offer— determining how to explore the park in a single day is hands down the most difficult part.
But First, A Little Bit of History-
Zion National Park boasts a rich history that spans thousands of years. The area has been home to various Native American tribes for over 8,000 years, leaving behind a remarkable legacy of petroglyphs and archaeological sites that provide glimpses into
their ancient way of life. European exploration of the region began in the mid-19th century when Mormon pioneers settled nearby communities. Isaac Behunin, one of the early settlers, is credited with giving the park its name, inspired by the biblical term
"Zion," signifying a place of refuge or sanctuary.
The creation of the national park can be traced back to 1909 when President William Howard Taft designated it as Mukuntuweap National Monument, and later, in 1919, it was re-designated as Zion National Park, making it Utah's first national park. Today, millions of visitors from around the world come to marvel at its breathtaking vistas, learn about its ancient history, and immerse themselves in the natural wonders that have been preserved for generations to come.
When visiting Zion, there is an extensive list of activities that cater to just about anyone. From quick 30 minute hikes to 4+ hour adventures. Some of the most popular hikes are Angels Landing, The Narrows, Emerald Pools, and Hidden Canyon. Check out the whole top 10 list here. Be ready to travel by shuttle-- from April to late October the canyon road is serviced by a shuttle system, but the road is open to private vehicles the other months of the year. Don't be deterred by having to adhere to a shuttle schedule, there is quite the fleet and they are running for a long span of hours each day. However, you will want to be aware of timing for the last shuttle pick-up. If you are at the furthest shuttle stop in the park, it will a 8 mile hike to make it back to the visitor center.

Our Adventure For The Day - Angel's Landing
If you are looking to hike Angel's Landing you will have to enter the lottery. This lottery system was implemented starting this year as a way to help limit the amount of traffic (as the hike is out and back with two-way traffic for the whole route). There is both a
seasonal lottery and a day-before lottery. For more information on how each of these work click here. We were thrilled to have caught enough luck to gain entry to the trail through the day-before lottery!
Hiking Angel's Landing in Zion National Park is an exhilarating and unforgettable experience that tests both one's physical endurance and mental fortitude. As you ascend the trail, the anticipation builds, and the views become more breathtaking with
each step. The rugged switchbacks and steep drop-offs add an element of thrill to the journey, heightening the sense of adventure. As you approach the spine-tingling final section, the infamous narrow ridge with sheer drop-offs on either side, you are met with
a mix of excitement and an inner-mantra of 'don't look down, don't look down.' Metal chain links have been installed to help with finding handholds, making the hike without them seems almost impossible. But the reward is unmatched – standing atop Angel's
Landing, you'll be rewarded with panoramic vistas of the park's striking red rock canyons, the meandering Virgin River below, and the vast expanse of Utah's wilderness. It's a moment of pure awe and accomplishment at the top, feeling like an unreal backdrop to ridge you just scaled.






Scared of heights and thinking Angel's Landing might not be the hike for you? Don't worry—we've got you covered. Check out the video below capturing our ascent of the infamous route.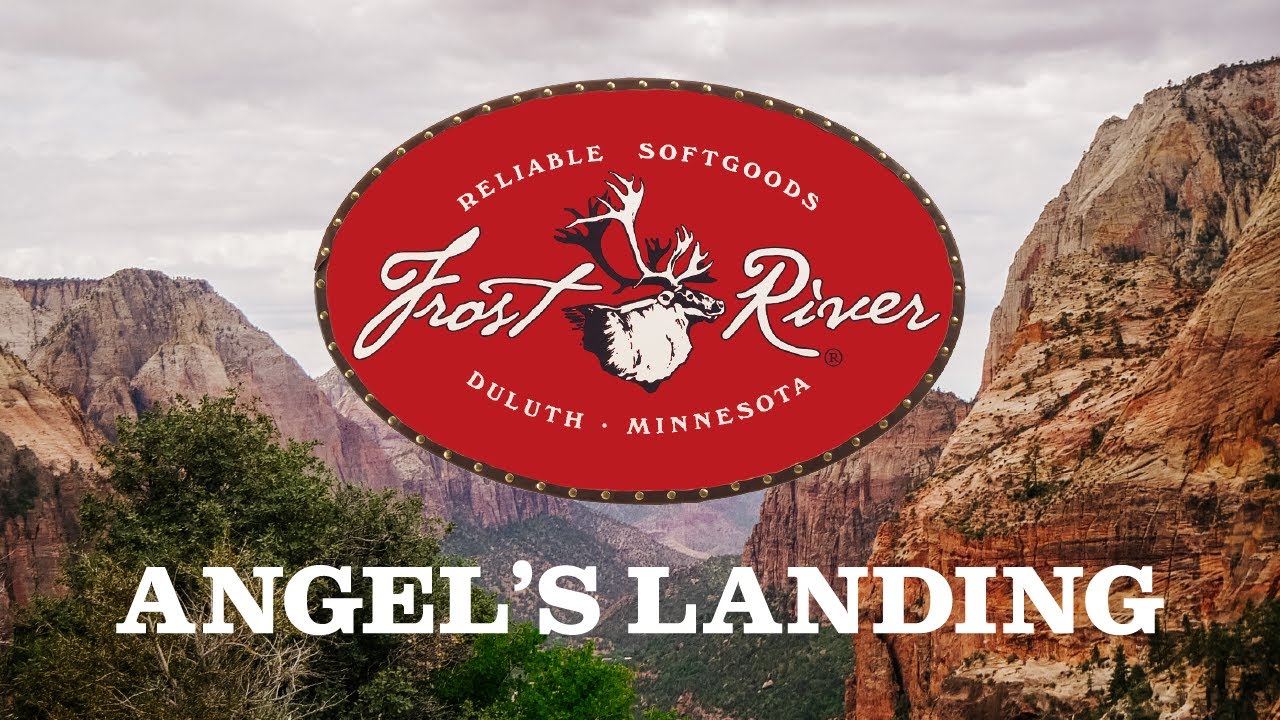 Most important things to pack and remember for this excursion:
1. Bring water! As much as you can, you NEED to stay hydrated for climbing elevation quickly and enduring the hot temps of southern Utah.
2. Pack sunscreen and remember to reapply.
3. Stay on marked trails- the beautiful ecosystem of the park can be fragile and visitors can cause quite a bit of damage without even knowing it.
Keep scrolling to for gear that we brought on the hike with us.
Where to Stay
Zion offers a great campsite nestled right in the park. It is the perfect location for a quick walk over to the shuttle station and visitor center. There is river nearby and it is surrounded by beautiful ridges above. If you're looking for a stay a step above camping,
try out the Zion Lodge just down the road from the campsite, it has the same beautiful surroundings and even a restaurant so you can spend your entire stay all within the park.
There are many lodging options right outside of the park in Springdale, UT. We opted for a more budget friendly stay in La Verkin, Utah. It was a quick and beautiful 30-40 min drive to the park from there.
Here are packs that worked out perfectly for our experience in Zion National Park, each member of the team packed a water bottle, camera, rain jacket, sunscreen and snacks.
Devil's Kettle Daypack
Perfect size for a day hike without getting to bulky and offering the maximum amount of attachment points for versatile carrying options.
Skyline Rolldown Backpack
This was the smallest of the bags we brought, it was great for keeping light and offering extra weather-proofing with the rolltop closure.
Sojourn Pack
The largest of the assortment, this bag was the pack mule of the group. It worked perfectly to bring along some extra gear without weighing you down during the ascent.
Frost River's National Park Guide
Need a bit of inspiration in planning your next trip? Look no further than our National Park Guide Quadrant One and Two. Each map covers a different region of the U.S. and provides quick fun facts about each of the parks it covers. Quadrant One details the Pacific Northwest to the Midwest, and Quadrant Two explores the Southwest Region.