The Sustainability and Suitability of Frost River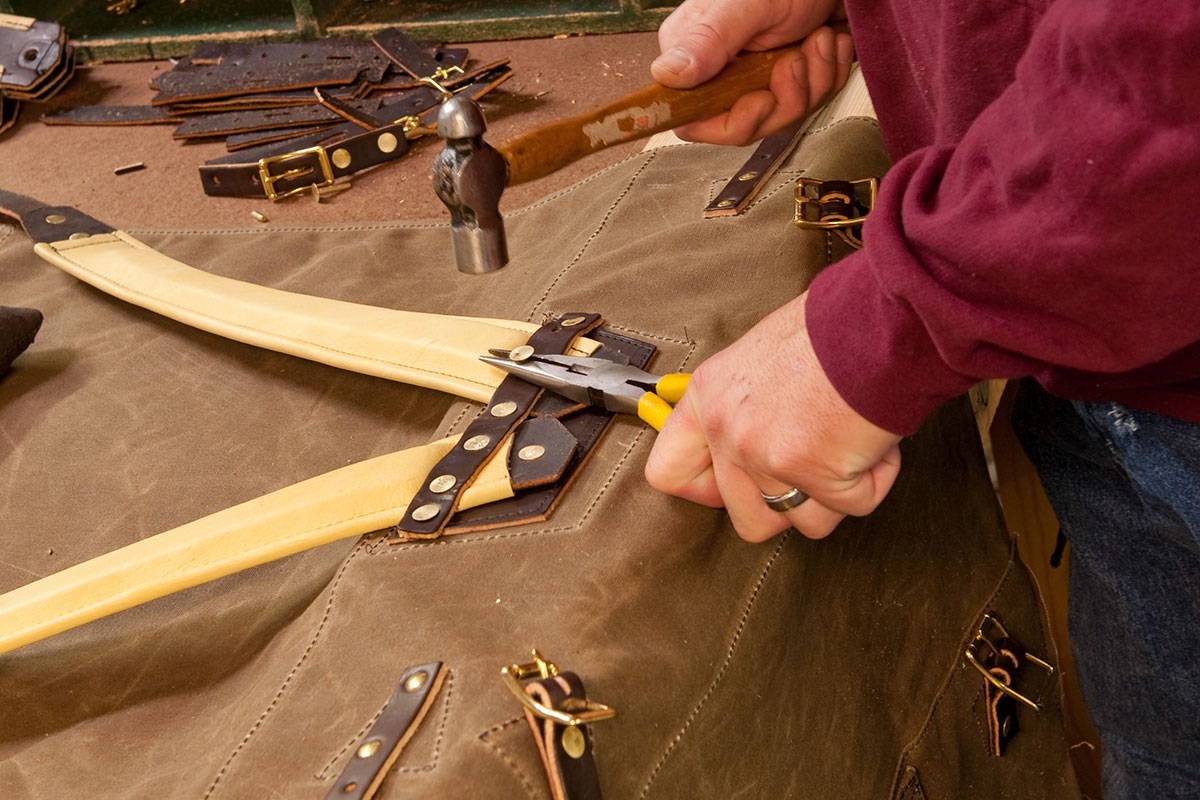 At Frost River, we pay attention to the way we do things.
It's not just our commitment to make rugged gear that's guaranteed to last a lifetime— we pay attention to the way we do things because there's an opportunity to do more: There's opportunity for increased environmental stewardship by decreasing our footprint, waste, and consumption. There's the chance to keep things out of the dumpster by making it right in the first place. There's the ability to build things that help us do good works and recreate out in the wilds of our great country and the world. There's the possibility that through our small actions we can help be better members of our community, right here in Duluth and beyond. Read on to learn about some of the ways that we're constantly working towards better sustainability practices on our corner of the world.
There's a lot that goes into our bags, from time to materials, here's a bit about how we make 'em good for the earth and community.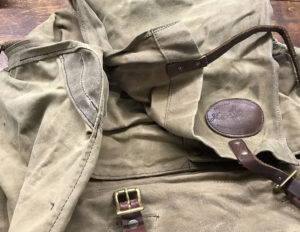 We build them all ourselves. That means we know how to put a bag together, and how to take it apart. Repairs can be made, components replaced, and patches applied so we can get a damaged bag back into service hauling the things that you need to carry. This repairability keeps our bags out of the scrap pile longer, saves materials, and allows more character and memories to be made with a favorite bag.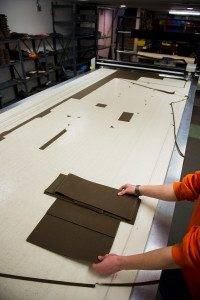 We constantly and consistently work to be better users of resources in our manufacturing. One example is the addition of our automated computer aided design (CAD) cutting table. Through digitizing our patterns and utilizing computer programs to nest the pattern pieces together, we have greatly increased efficiencies and reduced the amount of waste. It's much more sustainable, accurate, and safe for the machine to do the cutting. There's value to the Earth to be as efficient as we can with our raw materials, throwing out as little as possible. In our leather cutting operations, we click out smaller and smaller pieces until there is nearly nothing left. Our quality inspection workflow helps too, catching and repairing instead of scrapping the whole bag or sending it back and forth across state lines and borders.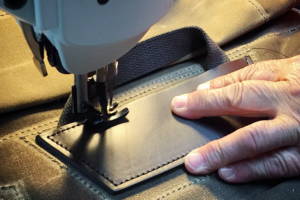 All our waxed canvas bags are made right here. Production based near retailers and partnering with domestic producers reduces transportation costs, energy consumption, and pollution. Having our workshop in-house means we don't need to have containers of finished goods shipped back to us from across the planet. We work with several domestic suppliers for our raw materials, some even come from right here in the Neighborhood. Others may not be within walking distance, but they're still nearby. Our leather comes from the S.B. Foot Tannery just to our south, in Red Wing, Minnesota. The tent and shelter fabric is sourced from Chicago, our waxed canvas is from New Jersey.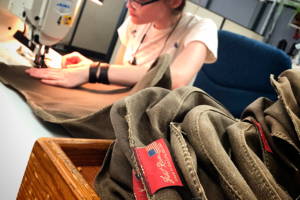 Relying on a local workforce makes a community more financially sustainable. More money stays here as part of our local economy when we build the goods right here, and it allows us to employ a local workforce of skilled artisans, operators, craftspersons, and characters.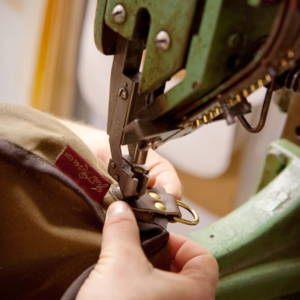 We talk all the time about the high standards we hold our gear to, but being a manufacturer in the US means that we're also held to environmental and workplace standards as well. Our packs and bags are made here, not in a sweatshop overseas. There's no forced labor, no children running sewing machines, and employees here are offered benefits. We build gear responsibly and ethically at 1910 W Superior St. in Duluth, Minnesota.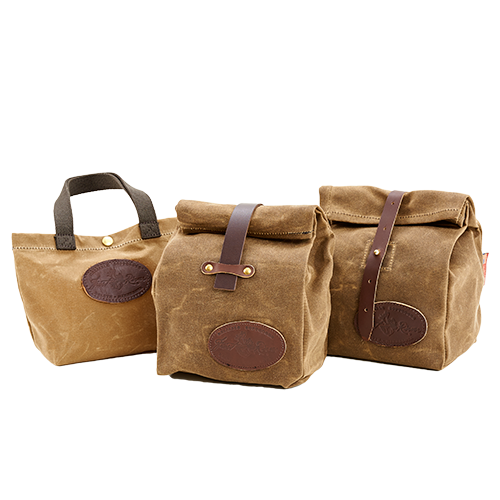 There are several designs in our line that offer alternatives to disposable products.
A Waxed Canvas Lunch Bag can displace thousands of disposable lunch bags.
A Gooseberry Tote (along with several other totes) can take the place of, and do a better job than, lots of plastic grocery bags.
Growler Packs promote growler fills and that reduces bottles and cans …. Double good (not to mention the craft beer)!
Bottle Totes beat brown paper bags, especially when given as a gift
Speaking of gifts— Lunch Totes and Accessory Bags make great gift bags!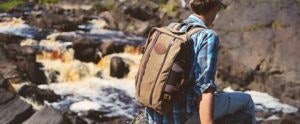 Frost River packs and bags are suitable for many different uses. Some, like our Canoe Packs, are purpose built to carry camp gear up and over the wilderness portages of canoe country. But they're just as useful car camping with the family, on hunting trips to the shack, out for summer forays lugging gear to the cabin (and to the beach), or using them as standard luggage, traveling as a woodsman, going wherever you need to go with the load on your back not in your hands. Our Growler Packs pull similar duty for carrying craft beer, or using a stainless growler as a reusable water bottle with a great waxed canvas cover. Our daypacks are happy to go from woods to work assignments without missing a step. The small to mid-sized packs like a Sojourn, Mesabi Range, High Falls, or Nessmuk are great multi-use candidates that are aptly suited to jobs from an office cubicle to the Outback. Accessory Bags, we can't imagine a use unsuitable for an Accessory Bag. They're just so dang handy!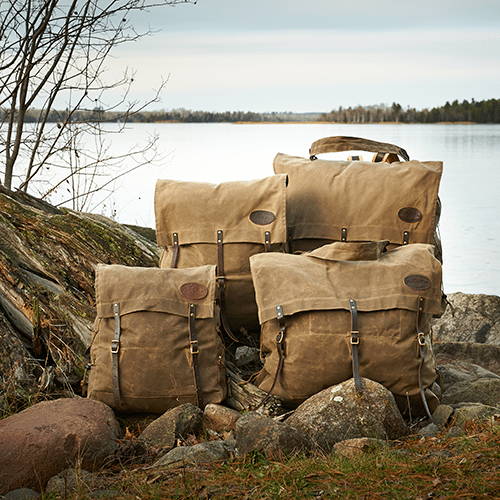 The classic form of Frost River bags allows them to transcend trends and not go out of style. They've been there, done that, come back, and are here to stay. Frost River bag owners often say things like "it's the last bag I'll ever need" or "I'll be able to pass this down to my kids!" And they're right, we build them the best way we know how, and will stand behind them to keep 'em out in the world, doing what they do best… accompanying you on a lifetime of travels.
Happy trails, thanks for traveling well with a good bag, and Happy Earth Day!