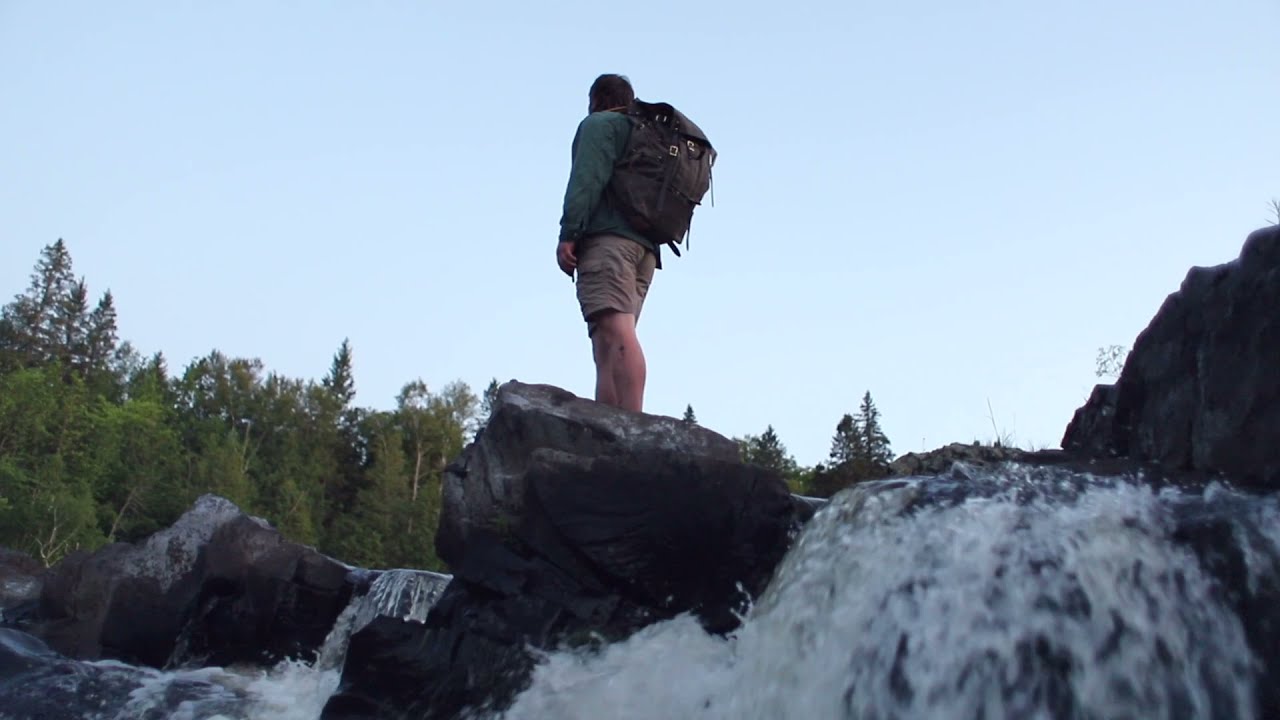 Hiking with the Frost River Royale Jr Bushcraft pack .
I bought this pack about a year ago to do over night hiking and camping trips. I have hiked countless miles with this pack and can attest to its rugged performance and durability. The pack is beautiful to look at and is a great pack, there are some comfort concerns for long distance hiking. The pack i have with gear is weighting in at around 35 pounds. With the buck skin straps and their beautiful design i will say they lack comfort if you plan to through hike or hike more than 10 miles a day! Wider at the shoulder would be better plus air flow padding in the back region would be awesome. Using this pack here in the South East United States out to hike the Pinhoti trail or AT you will be sweating quite a bit. Be ready for that. It's not as bad pack and i do use mine. I'm not a weekend warrior or a back yard camper playing bush craft. I carry the gear that helps me get to where i need to get to complete my through hikes and to carry gear that i use to eat and sleep. Does it perform ? Yes it does but would i say it is the best option for serious hiking, I'm not so sure there are more comfortable options out there. I would do my home work before buying this pack, are you in to it for looks or performance, ask the hard questions before buying it. I love this pack for its rugged reliability and looks but also realize that it's not the most comfortable pack out there. I plan on using the Frost River pack because it's a timeless rugged looking pack that gets a lot of looks and starts a lot of conversations. It does carry what i need and that is enough. The weight is heavier than its competition.
Excellent bushcraft, camping, hunting bag
I debated for a while over choosing between the Isle Royal vs. the Isle Royal Jr. I went with the Isle Royal and I'm really glad I did. Too many of my other bags are a great size, until you go to actually load them out for what you're going to go do and I end up strapping things to the outside and using compression sacks to jam everything in (especially in winter or on outings with my small children) "can you carry this dad?". The Isle Royal does not have that problem! I'm pretty sure that it's cavernous main compartment is larger than the trunk of my brother's 1969 Chevy Caprice that he drove in high school! I've been deer hunting for the past week where the pre-dawn temps were in the thirties and would get to a high of 60 in the afternoon. That meant that I had to bring a number of layers to stay dry and comfortable for pre-dawn to sundown sits. I'd hike around 1000 yards to my stand up significant terrain, and hauling layers in my ruck allowed me to regulate my body temp and not get wet. Along with the layers were the tree stand seat, food, water, emergency kit, water, etc. It all fit in the Isle Royal perfectly and there was still more room honestly. I also appreciated the lack of loud zippers and the brass and leather hardware was nearly silent when used. Fully loaded out, it was comfortable to wear for the 2-3 km I carried it each day. It kept my gear bone dry during an all day rain yesterday and the bedroll straps on the bottom worked perfectly for strapping my bloody Deer sleigher drag sled to the bottom to keep the rest of my gear clean. I'm very thankful to have such a rugged and dependable American made companion for my outdoor adventures!
Ridden Rough Isle Royale. The verdict?
I've waited a couple of years to write this review. The reason is that I wanted to abuse it for a while to fully know how good it is. My excursions are on YouTube for the world to see, so there's no dishonesty here.
This pack is AMAZING. It's not for lightweight through hiking, but it absolutely is for rough adventures into the wilderness where you need your gear to endure. My Isle Royale has been subjected to thousands of thorns, rough rocks, heavy rains, snow, over stuffing, and all round general survival situations (for it and me). It has come through with flying colors and I couldn't be happier.
Due to the material it's made from and the labor I subject it to, I maintain it every 6 months with a homemade beeswax, Shea butter, and castor oil on the leather, and then rub a bar of beeswax over the canvas, heating it with a hair dryer afterwards so that it soaks in. It is as good as the day I bought it ...no...better. Because now it has experience, shared memories, and comfort as it has contoured to my loading and activities. 5 stars, but only because there is no possibility for 10.
William
-The Wilderness Philosopher
Best bushcraft bag
Very well put together, solid construction and comfortable.
Great Bag
Love this bag. The craftsmanship is amazing. I'm looking forward to putting it to the test this weekend in the high country.